In their continuing efforts to destroy itself, Cracked has an article up on being in the closet while in other countries. It's a low effort post consisting of 5 "facts" that are mostly blindingly obvious (Some geographic spaces have people more accepting of homosexuality than people from other geographic spaces! Surprising!) and a complete absence of humour. But there was one thing in it I wanted to comment on (aside from it being just another note on Cracked's continued decline).
In Botswana, it's customary for men to hold hands while chatting and walking. (No, the irony of such a homophobic country being filled with men skipping down the street holding hands was not lost on me.)
This is not irony. It is in fact the definitional opposite of irony, it is exactly what you'd expect.
These men are friends, engaging in male bonding. Touch is and always has been and important part of bonding and there is absolutely nothing implicitly homoerotic about men engaging in physical male bonding. In past, intimate physical contact between men was normal, and in other parts of the world that have not been homoeroticized it still is.
Take a look at this picture (one of a hundred similar ones from Art of Manliness):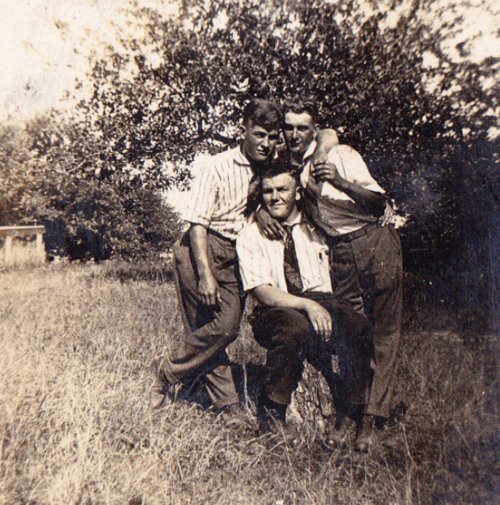 Are these guys gay? Probably not. Yet it probably looks gay to you. In a healthy culture, intimate physical contact between men is normal and healthy. There would be nothing untoward or sexual about this, it's just some friends hanging out. In our homoeroticized culture, this  kind of intimate contact between males is gay. We can see this difference from the Cracked article:
I didn't even have to hide my boyfriend, whom I met at the gay underground party. He came to visit me for a weekend in my tiny village, and no one seemed to notice or suspect anything unusual about two dudes quietly holing up in a house together and sweating a lot. They must be great friends who love to work out!
As was pointed out in the Way of Men, men want to be recognized as masculine, as men within their gang who have attained the masculine virtues. Gays are effeminate, not masculine, and exist outside the gang. Normal men don't want to be seen as effeminate or gay as this represents a failure to attain manhood and puts one outside of the gang.
In a "homophobic" society were homosexuality is proscribed, men can be physically and emotionally intimate with each other without being gay, because this intimacy is simply a normal, close friendship. So King David can say of his best friend:
"Jonathan lies slain on your high places.
I am distressed for you, my brother Jonathan;
very pleasant have you been to me;
your love to me was extraordinary,
surpassing the love of women.
And it's not gay, because it isn't gay. A man can have and signal intimacy with other men without it signalling gayness, because homosexuality doesn't exist outside the occasional condemnation in a religious sermon. Male intimacy is normalized.
But, in a society where homosexuality is normalized as an accepted alternative lifestyle, and homosexuals publicly display their sexual proclivities through displays of intimacy, you can no longer safely display intimacy. If you do, there is a significant chance that other men around you will think you are signalling gayness, you will lose your masculinity. Through this, homoeroticism colonizes male intimacy. When homosexuality becomes normalized, male intimacy becomes denormalized.
In a gay society, you can not be homosocially intimate without being gay.
There are some modern attempts to bring non-sexual male intimacy back into normalcy. Both bromance and no homo try to explicitly counter-signal hetorosexuality and masculinity while engaging in male intimacy. But even then, our society is so gay that bromance is seen as "an increasing openness of society in the twenty-first century to reconsider gender, sexuality, and exclusivity constraints" rather than an attempt by young men to close the gaping spiritual and emotional wound that the lack of intimate male friendship has left in their hearts. These attempts have mostly failed.
In a non-gay society, you could slap your friend on the ass after the game, and walk to the showers with your arms around him. In our gay society, this sounds gay to you (and to me) because male intimacy has been colonized by homosexuality. This is one vague, virtually invisible, unquantifiable harm the homosexual movement has done to the majority.